WORSHIP THAT TRANSCENDS CULTURE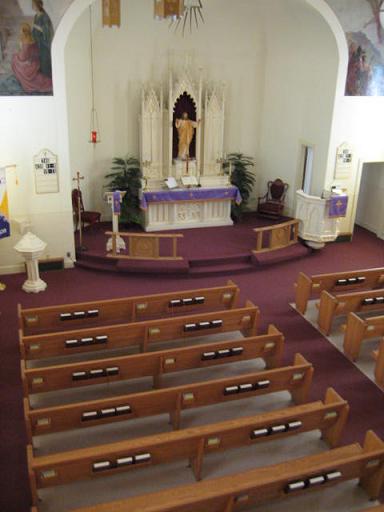 What to expect:
Immanuel is a liturgical congregation which uses a hymnal and traditional Lutheran orders of worship. We use these services because they are entirely drawn from and based on the Word of God. Nearly all the words contained in our orders of service come straight from the Bible. Immanuel strives to worship God in an authentic and Biblical fashion. Much of the content of our worship services is hundreds or even thousands of years old. All people (children, youth, and adults) are united in a single form of worship. In the Divine Service, God himself comes to us to place faith in our hearts through Word and Sacrament. We respond to God by faithfully speaking and singing His Word.
How to participate:
At the front of the church, two hymn-boards provide the information necessary to follow along with each service. (This information is also printed in the bulletin.) The number at the top of the board is the opening hymn which is sung following the ringing of the bells. The second page number on the board is the order of service which we will follow. The hymns and order of service are found in the red colored hymnal present in each pew. The ribbons in the hymnal may assist you in marking the pages in the hymnal. Each subsequent number posted on the hymn board is for one of the hymns we will be singing - they will be inserted in the service as marked in the order of service or as announced by the pastor. If you get lost, feel free to ask someone sitting near you for assitance.
How to dress:
We welcome all to join us for worship regardless of their form of dress. Many of our members choose to dress in their best clothing in order to show respect for God who is present with us in the Divine Service; but others wear more casual clothing. Most importantly, we come before God with a reverent heart.
When to come:
Our chief service is held every Sunday morning at 9:30 AM. Additional services are held on special days observed by the Christian Church according to our liturgical calendar.
Click here for more information on service times.
ALL ARE WELCOME:
We welcome all people to join us for worship - through which we hear God's Law and Gospel; receive the blessings of the forgiveness of sins, life, and salvation; and return praise to God by faithfully singing and speaking His Word.
Visit our music page by clicking here to learn more about the role of music in worship at Immanuel.