MUSIC AT IMMANUEL
Our Heritage:
While Immanuel has become known as the "the River Church" on account of its location on the bank of the Rock River, a second nick-name was also assumed by the congregation: "the Singing Church." This name was assessed due to the strong tradition of congregational singing present at Immanuel - a tradition which continues today. Many will recall that the same nick-name was once given to the Evangelical Lutheran Church as a whole for its strength in the area of music, especially congregational song.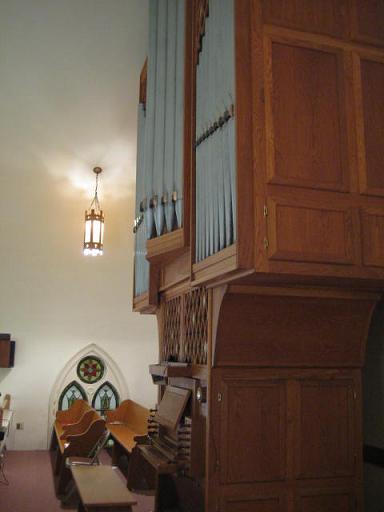 Choirs:
Immanuel has a mixed choir consisting of both male and female voices; and a seperate choir of men's voices only. In addition, two children's choirs also join our worship services. Several recordings of our choirs have been made over the years.
The Pipe Organ:
Immanuel has been blessed with a 22 rank Hammes-Foxe tracker organ constructed in 1982. The organ consists of 1032 pipes made of various materials including lead, tin, zinc, mahogany and maple. Its form, action, and voicing was modeled after the organs of eighteenth century Germany. A tracker pipe organ is an organ where the valves in the windchest are mechanically connected to the keys and pedal board; rather than connected electronically. This gives the organist a degree of control that is impossible with any electrical type of key action. The stop action is also mechanical. These tracker organs are rare in the modern world - especially in the local congregation.
Acoustical Space:
The high curved ceilings of Immanuel provide a perfect space for the sound of music to be heard. Several choirs have sought out our worship space to make recordings.
&nbsp &nbsp